Johnson & Johnson
Acuvue Oasys – 1 Day with Hydraluxe – 30 pack
Daily
30 lenses per box (per eye)
30 days supply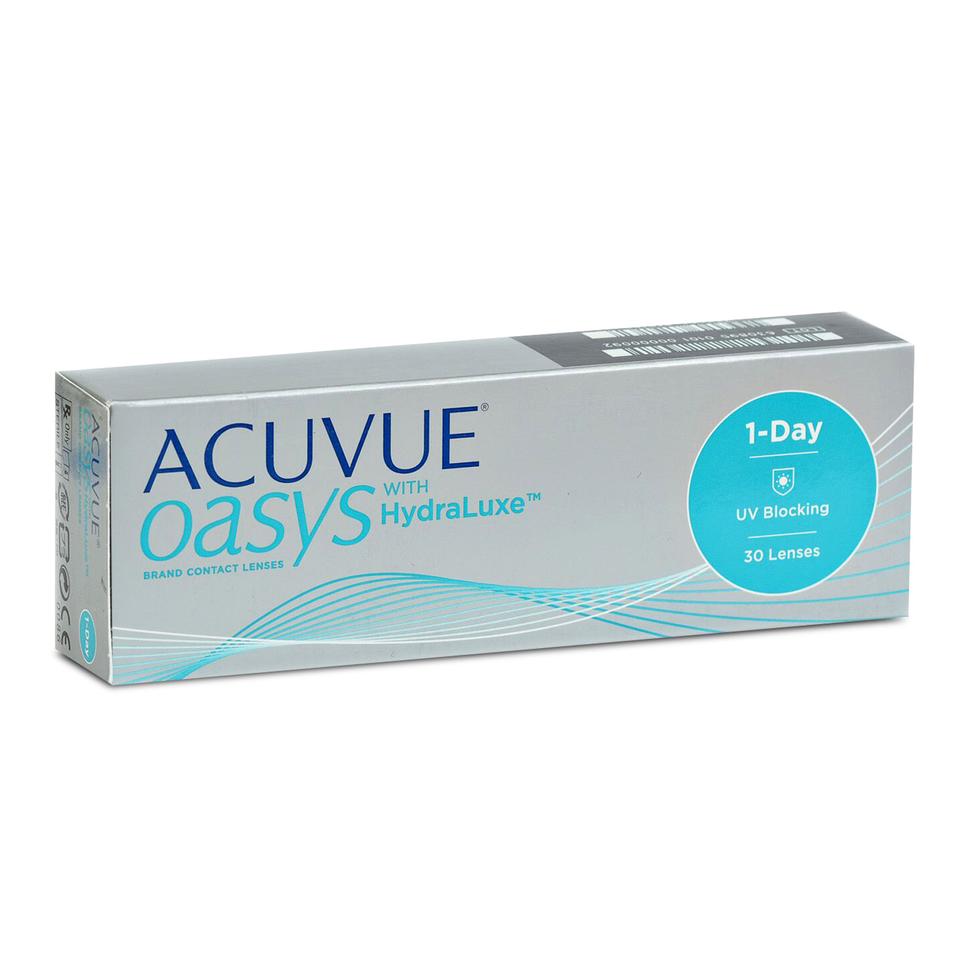 ---
Details
Acuvue Oasys 1 Day with Hydraluxe - Daily 0 pack contact lenses are designed for everyday use.
Features
Hydraluxe ® Technology that works with your eye's tear film
Daily disposal lenses available in convenient pack sizes
Filters 96% UVA and 99% UVB rays
Acuvue Oasys 1 Day with Hydraluxe contact lenses are available for short-sighted and long-sighted prescriptions. Also available in 90 Pack.
$60.00
---
Lens Type: Sphere
Manufacturer: Johnson & Johnson
Brand: Acuvue
Frequency: Daily
Package Size: 30 day supply
Lens Colour: Visibility Tint
At Temple Eyewear, we want you to be happy with your contacts.  We recommend that you only order contact lenses that have been recommended for you by your eyecare practitioner as they cannot be exchanged.  We will replace a defective or torn lens due to the fault of the manufacturer within 12 months from the date of purchase.
Delivery may take 3-7 business days with Australia Post/Star Track. Delivery is Monday to Friday, 9am-5pm. Contact Lenses are a prescribed medical device and cannot be returned or replaced unless product is defective – please refer to Guarantee. If you have received a defective product please call Temple Eyewear on 07 3153 2044 to organise a replacement.
Your prescription eyewear purchase is eligible for Health Fund rebates, subject to your individual health fund, membership type, limits and claiming history. You will receive a tax invoice from Temple Eyewear containing the relevant item numbers and provider number for claiming rebates through your Australian Health Fund.
Understanding your prescription
Your prescription can be written in different ways, and your Spectacle prescription is usually different to your Contact Lens prescription. Here is a short explanation as to how to interpret your prescription. This will help you in ordering correctly online. Of course, we are always happy to help you, so please contact us if you would like further assistance.
The Right and Left
The right eye may be written as right, R, RE or OD. The left eye may be written as left, L, LE or OS.
Sphere Power
The Sphere power is the first number in the prescription. It is usually a + (plus) or – (minus) number, but can be 0.00 (or plano, pl, or just left blank).
Cylinder Power
The Cylinder power is the second number in the prescription. It is not included in every prescription. If included, it is usually a – (minus) number.
Cylinder Axis
The Cylinder Axis is The third part of the prescription is the cylinder axis. If there is a cyl included in the prescription, the cyl power will be followed by an 'x' then a number. This is the cylinder axis.
Add
Add is in some contact lens prescriptions The Add is the additional power, added on to the sphere power, to give the reading prescription for those who need it. With contact lenses this may be a numerical value, or it may be written as Low, Med or High.
Lens Type
Lens Type is also part of the contact lens prescription and is the type of lens prescribed, eg Acuvue Oasys. Bupa Optical can only supply the contact lenses specified in your prescription.
Base Curve
The Base Curve is on some contact lenses prescriptions and is the Base Curve (the overall curvature of the lens) and the Diameter (the width of the lens) specified. If this is the case for your lenses it will be included on your prescription.